This post was originally published by ACM Computers in Entertainment on March 31, 2014.
Ellen DeGeneres Group Selfie During the Oscars Proofs Entertainment Content Rules Social Media and Shows the Marketing Power of the Second Screen
By Katja Schroeder, Expedition PR
Ellen DeGeneres' group selfie featuring herself, 10 A-list celebrities and the brother of Academy Award winner Lupita Nyong'o during the Oscars on March 2nd was a slam dunk on Twitter for Hollywood. Within a few hours the star-studded selfie dethroned President Obama's victory photo as the most retweeted picture on Twitter in history. To date it has achieved more than 3.4 million retweets and prompted parodies, including one from The Simpsons.  In comparison, Obama's victory photo was shared 780,000 times.
At the one million retweet mark, Twitter honored Ellen DeGeneres for setting a new world record with – what else – a Tweet.
The envelope please….to @TheEllenShow – this is now the most re-tweeted Tweet with over 1 million RTs. Congrats!
— Twitter (@twitter) March 2, 2014
If you are not one of the over three million people who retweeted or liked the picture since the Academy Awards ceremony, this is the famous tweet that started it all:
If only Bradley's arm was longer. Best photo ever. #oscarspic.twitter.com/C9U5NOtGap
— Ellen DeGeneres (@TheEllenShow) 3. März 2014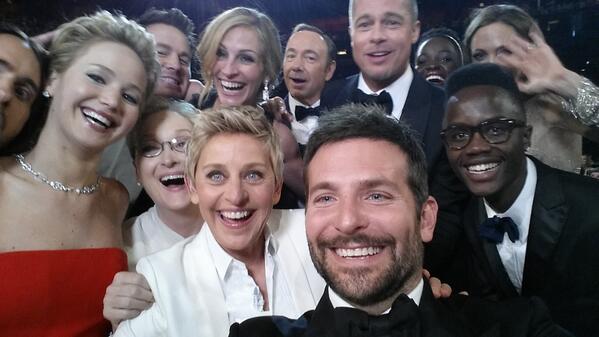 With the exception of Meryl Streep, who according to media reports exclaimed at the group shot that she has never tweeted before, entertainment celebrities have the highest following on Twitter.
According to Twitter Counter statistics, Katy Perry leads the top ten for most followed people on Twitter with over 51 million followers; Justin Bieber ranks second with 50 million followers. He has 9 million followers more than President Obama who ranks third (41,900 followers). Among the top ten are also Lady Gaga, Taylor Swift, Rihanna and Justin Timberlake. This year's Oscar host, Ellen DeGeneres, is on 12th place. 
While not in the top ten (yet), with 27.5 million followers on Twitter, TV personality Ellen DeGeneres is a social media power house who knows how to entertain and engage her followers.  Her social media presence gave this year's Oscars a big boost. More than 14.7 million tweets globally referenced terms related to the Oscars, wrote Twitter in a blog post.
She also increased her own following. Twitter reported in the same blog post that "after the show, @TheEllenShow's follower growth was 47 times more than her average daily growth rate this year".
Ellen DeGeneres is not the only celebrity who combines public events with online engagement to grow her fan base.  Another striking trail blazer for the power of social media  in the film and entertainment community is Lupita Nyong'o.
The WSJ reported on February 13 that Lupita Nyong'o who had joined Twitter on January 7, shortly before the Academy Awards nominations were announced and less than two months before the Academy Awards Ceremony on March 2. She quickly boosted her following by chatting about awards, media  and fashion show appearances on Twitter and Instagram. Two weeks before the Oscars 45,900 people followed her on Twitter and 176,543 on Instagram. She was one of the most tweeted about celebrities during the Oscar ceremony. After Lupita's Oscar win her numbers jumped up to 250,000 followers on Twitter and 891,612 on Instagram.
While the number of fans on social media does not determine who ends up winning the golden statue, those fans can be quite vocal when their favorites lose. Five-time Academy Award nominee Leonardo DiCaprio, who has more than nine million Twitter followers, lost the Best Actor award (again). This time to "Dallas Buyers Club" star Matthew McConaughey. DiCaprio fans went on Twitter to show their support for the star. The hashtag #PoorLeo began trending on Sunday night, with many of the Tweets featuring memes that referenced film scenes and titles such as "Catch Me, If You Can".
While not all nominees are able to catch an Oscar, they surely can catch more fans on social media and get rewarded with fan support for every appearance. Hollywood brings the promise of the second screen to life for marketers, and celebrities are the first ones to benefit from it. After all, social media is one of the best ways for fans to engage with celebrities, especially if they can only watch them on TV and don't have the chance sit up-close next to them like Leo's mom or Lupita's brother.
Comments
comments